Cloud backup entails making use of a remote cloud-based server to backup data.
Cloud backu
p or online backup is the process of backing up data by sending the data to an off-site server over a public network. Backing up file via cloud attracts some charges depending on the size or capacity of the data, this is because the cloud backup data is usually hosted by a third-party service provider. Cloud file sharing or online file sharing is a process where a user is allocated space for storage on a server for storing files over the internet. Cloud file storage deals with sharing files between different users through a cloud computing-based technology, this can be done through cloud storage and collaboration services which enables file sharing between users over the internet. Cloud storage are services where online backup, syncing and sharing services store data. Data storage ends up with the cloud storage providers. Cloud storage services provide CLIs, APIs, and access points for developers to directly bind their storage offerings. The price of these services is charged per gigabyte. It is necessary to have a duplicate of your data notwithstanding the fact that these services
are designed for durability and high-availability.        
Cloud
file sharing
is possible when the file has been stored already on a cloud file-sharing service. Files can be uploaded via the service control panel which in-turn generates an exclusive URL for the file. This URL can be shared, copied or sent to multiple users for downloading and accessing the file. The file can be accessed at any time provided there is an internet enabled network.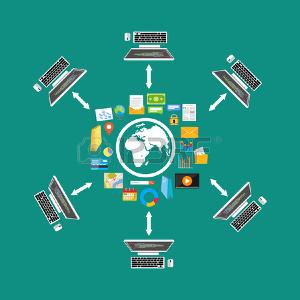 There are two main types of cloud storage which are the cloud file storage and cloud block storage. Cloud file storage is highly recommended for semi-structured and unstructured data such as spreadsheets, presentations, docs, PDF and other file-based data. Cloud storage architecture is used by most of the
cloud backup
and storage services.

To maintain a suitable performance, it is better to use a block storage architecture for applications like databases which has very large files.


The cloud backup process stores copied data on a different platform or another storage system for easy reference and access in case of any need for recovery. Storing your files and documents in the cloud assures you of the ability to access it from anywhere and also share it if necessary. Cloud file storage reduces local storage requirements and productivity gains.  Cloud backup renders this services to many businesses and organizations.
While uploading files to the cloud backup services, it is likely to take days for the initial backup to finish uploading depending on the size of the data you are uploading. In order to enable the cloud backup, the vendor sends a
data storage
device such as a tape cartridge or disk drive to an organization, a technique known as cloud seeding is adopted. Cloud seeding makes it possible for large amounts of data to be uploaded to a cloud storage service, the organization backs up data locally to the disk drive or tape cartridge and sends the device back to the provider. The security of your files are assured in cloud storage and also backed up multiple times.
Tuesday, July 17, 2018
Powered by WHMCompleteSolution