Online data backup also known as
remote data backup
is a method of backing up data on a remote server or over a network hosted by a service provider. Online backup means  backing up data from your hard disk to a remote server using a network connection. Online backup is also some kind of cloud this days, it means backing up your files to a service provider's site. Users pay service providers to backup their files, and in return, they are charged depending on the capacity, size of the backup, frequency, and the number of users. There is a high possibility that an enterprise which makes use of online backup services might as well own the off-site server.
Every small business ought to invest in the cloud storage in terms of their files. There can be unwanted virus attack, devices might get misplaced or lost, an important file can fall victim to this. In order to lower the risk of losing your files, you need to resort to cloud storage which is a perfect file-sharing tool. Cloud storage share documents and multimedia files which has a large size.
There is always a
cloud storage service
for your storage demands which includes reliability, accessibility, easy file sharing with colleagues and clients.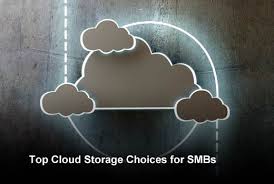 Cloud storage guarantees provide small business with the following benefits:
Synchronization: It is now possible for users to sync documents between computer systems on the network of the local system. Most small businesses store files in local hard drive but cloud storage reduced the need for moving files from one device to another.
File Sharing: Most cloud storage now has a drag and drop functionality which makes file copying easier for confidential records. Sharing music, images, documents, videos have been made a lot easy using cloud services.
Security: Cloud is more protective when it comes to your files and data. In many small businesses, data filed locally are in the danger of fire, misplacement, software issue,computer failure and even thef
Below are few cloud storage solution for small businesses:1. IDrive:
IDrive is said to be the best for small business, they offer storage plans which includes both free and paid. This service has the ability to boost extensive file-sharing and syncing potential and also backs up your computer as well. It uses a secured user defined key to transfer and store files with 256-bit AES encryption. It also has the ability to share folders via email, social media, remote management tool, mobile access and online file syncing.
2. Zoolz:
Zoolz is said to be one of the best
cloud storage solution
for long-term storage. Zoolz comes with unlimited servers and gives small business access to powerful cloud storage making  it easy for you to level the services to your business needs. Zoolz also has a free 10GB storage capacity.
3. Acronis:
Acronis is well known for its virtual backup ability. Acronis is ideal for small businesses, it is designed to work both in the cloud and on-premise. It is not limited by any system compatibility issue, it can recover and restore systems to different hardware. Acronis assures you of the safety of your files and it has its own cloud servers but works can also work with private and public hosts.
4. Barracuda:
This platform permits you to customize your backup system with either local premise and cloud storage. It features Office 365 cloud storage with cloud-to-cloud backup for extra security. Barracuda offers you multiple points of backup, multiple layers of protection and emergency recovery options.
5. ADrive:
This platform renders online storage service to businesses. It enables the user to engage in multiple side-by-side sessions, maintain a multi-user account, and edit documents online. ADrive offers a 24/7 technical support with online collaboration and remote file transfer. It offers both personal and business plans, its business plan's storage capacity starts at 200GB. It has a file history recover and increased security
Wednesday, July 11, 2018